Copgrove Hall Stud
Copgrove, Burton Leonard, Harrogate, North Yorkshire, HG3 3SZ
Owner:Guy Reed Trust (Mr.Guy Reed deceased July 2013)
Manager: Brian O'Rourke (from Dec 2016)
Acreage:Approx.400
Type: Private

Copgrove is perhaps the most visually stunning stud farm in the North of England. From the intricate 'GR' gates at the end of the mile long main drive to the luxurious stable block, converted from traditional farm buildings, owner the late Guy Reed spared no expense in providing all the necessary facilities to make Copgrove with it's rolling, limestone based, paddocks an ideal home for the young thoroughbred.
The stud, a few miles North of Harrogate, was originally founded by leading owner/breeder Lionel Holliday (breeder of Vaguely Noble and Hethersett) in 1939, and the Hall was his main residence. This stud however was closer to the Hall than the current operation, which was built up from scratch by Reed. Holliday also owned Cleaboy Stud, Co.Westmeath and Sandwich Stud, Newmarket. Descriptions of the extent of his operations at Copgrove range from "his breeding was centred on Cleaboy, and he only kept a few mares at Copgrove" to "the mares and foals were all based at Copgrove, and transferred to Cleaboy as weanlings" it is therefore difficult to gauge the extent of the Yorkshire involvement in his bloodstock, for that reason the outstanding breeding achievements of Major Holliday (and his son Brook) are detailed on a separate page here.
In the Autumn of 1969 the Copgrove Hall Estate was placed on the market with 1,619 acres, the 7 bedroom main house, 19 cottages, 39 loose boxes and 14 railed paddocks, a price of £400,000 was anticipated for the whole, although a number of the lots found different buyers and Mr.Reed purchased the house and the surrounding 50 acres of land. Tony Gillam (son of Holliday's sister Diana Gillam formerly of Tarbrook Stud, Tadcaster) had meanwhile started a stud elsewhere on the estate (the 900 acre Wheatlands Farm which he had purchased from his Uncle Brook Holliday) standing, amongst others, Brook and The Brianstan. There is a strong Red Rum connection here as Tommy Stack (later a successful trainer in Ireland), rode Red Rum in his last Grand National triumph and was the breeder of Brook and a partner in The Brianstan. Tony Gillam had also been one of Red Rum's earlier trainers, indeed Red Rum was his first winner.
Guy Reed started his breeding activities in 1968 with the purchase of his foundation mare, Ardneasken. In utero was Warpath (by Sovereign Path) and this fine racehorse and stallion was to be the lynchpin of Guy Reed operations for almost the next 20 years, dying in May 1987. Nidd Hall (only a few miles from Copgrove) had been purchased in the late sixites from Viscount Mountgarret and Mr.Reed immediately started to lay out a stud in the parkland surrounding the main house, with the buildings being based around the old Home Farm, although stabling closer to the Hall was also used.
In April 1987 Guy Reed sold most of Nidd Hall Stud to former trainer Hon.Ian Matthews (who traded as Nidd Park Stud) and consolidated his activites at Copgrove, although 80 acres were initially retained at Nidd. This land was temporarily needed to house the large number of Wildenstein family yearlings that Guy Reed was now rearing on their behalf.
Art dealer the late Daniel Wildenstein (and his son Alec) have raced some of the most outstanding horses of the post-war era including 'Arc' winners Peintre Celebre, Sagace, All Along and Allez France and other good horses such as Pawneese, Flying Water, Steinlen, Epervier Bleu and Pistolet Bleu. Despite having around 80 of the best bred broodmares in the world the Wildensteins have never previously owned a stud farm, although they have in the past leased a variety of properties in Ireland and France. This changed early in 2001 however when the family bought a significant proportion of the renowned Haras du Bois-Roussel in Normandy, and the Wildenstein yearlings are no longer raised in Yorkshire. Previously however the mares were boarded at a number of studs in America, Ireland, France and England (including Sledmere). Wildenstein's primary trainer in England until the mid-eighties was Henry Cecil. Cecil's twin brother, David, had care of all the Wildenstein yearlings who were based at the families Cliff Stud and also at Sledmere. However following a disagreement with Henry Cecil in June 1985 the Wildenstein horses were removed from Cliff. David Cecil continued to manage these horses however and was asked to find alternative accomodation for them in Yorkshire. For an interim period the fillies were housed on the 80 acres retained at Nidd and also at Sledmere, with the colts being based at Copgrove.
By 1989 however Reed had largely finished developing the facilities at Copgrove so Nidd Hall and the remaining land was sold. From then until 2001 all the Wildenstein yearlings were based at Copgrove. They came as weanlings from Kentucky, Newmarket and France in October, by which time the previous years crop had departed to France, where Elie Lellouche trained the majority of the Wildenstein horses. David Cecil was no longer involved (he later ran a restaurant in Lambourn, but sadly died of cancer in 2000) and Guy Reed, being very much a hands on owner, had direct responsibility for these yearlings. Amongst the Wildenstein yearlings reared at Copgrove by Guy Reed were Peintre Celebre (Arc, French Derby and Grand Prix de Paris), Epervier Bleu (Prix Lupin and Grand Prix de Saint-Cloud), Arcangues (Breeders Cup Classic, Prix d'Ispahan), Bigstone (Queen Elizabeth II S, Sussex S), Victoire Bleue (Prix du Cadran) and Pistolet Bleu (Criterium de Saint-Cloud and Grand Prix de Saint-Cloud). As these are all Group One races their achievements show that Yorkshire is still more than capable of being at the forefront of the international thoroughbred world.
The yearlings were managed on a shed rearing system, originally pioneered in the States. This system involves a large shed with an opening that leads to a corral. This corral usually has at least two, sometimes three, gates, each leading into a different paddock. There are five such sheds at Copgrove, during the summer the horses can come and go as they please, in the colder months the gates are locked and the yearlings remain in the sheds overnight. The sheds are mucked out about twice a week, but this is a simple system more akin to mucking out cattle sheds than traditional stables. The horses are not stabled until just before they go into training, leading to relaxed horses who don't go wild at their new found freedom when they are released from their stables and thus running the risk of damaging themselves.
Mr.Reed was Chairman of Reed Boardall storage in nearby Boroughbridge (the office was originally at Copgrove Hall), and also owned the 740 acre Guy Reed Farms at Asenby, Thirsk (the 450 core of which was placed on the market in 2021 for £4.3m) , as well as further land at Dalton. Asenby is mainly arable although there is also a beef unit and a poultry unit for 60,000 birds, which is rented out. Mr Reed usually relied on home bred stock, especially when Warpath was still around, but for a period in the nineties the homebreds were augmented with a signficant number of yearling purchases, who generally tended to be speedier, quicker maturing types than the standard Copgrove bred animals. For the 1999 season Mr.Reed also had three two year olds with Mick Easterby, all sales purchases, this was the first time he had utilised this trainer.
In the years leading up to his demise Guy Reed maintained a broodmare band of around a dozen, a large number of which are descended from Ardneasken. Although foals had previously been entered in the December Sales these were usually on (Coolmore) foal shares and were generally bought in by Mr.Reed. The vast majority of the stock used to go into training with Chris Thornton at Spigot Lodge, where Guy Reed was the landlord (he originally owned a quarter share in Sam Hall's day, but gradually bought out the other partners), until the property was sold to Karl Burke at the end of 2000. For a number of years he continued to send yearlings to Thornton (then operating elsewhere in Middleham) although in much smaller numbers. From this time until January 2007 the majority of the Reed horses were trained by Barry Hills at Lambourn, whilst he also had a few in partnership with Ailsa Daniels at Kingsley House, trained by Mark Johnston, as well as an occassional National Hunt type horse with Kate Walton. However in January 2007 Reed withdrew all but one of his 20 strong string from Hills, with eight of them immediately joining Kevin Ryan at Hambleton and the rest going to Alan Swinbank and Chris Thornton. As at the start of 2010 he only had horses with Kevin Ryan and Alan Swinbank, although Andre Fabre and Richard Hannon Jnr. also joined the training roster in more recent years, and 'Guy Reed Racing' added Micky Hammond in 2015.
For a while in the nineties the Reed operation was in a bit of a lull with the last really top class horse bred by Reed being the 1985 colt Apache who was bred at Nidd as were his other top class home-bred horses Warpath, Shotgun, Dakota, Aviator and Sweet and Lovely. However some new mares (Sweet Jaffa, Preening and Sirene Bleu Marine) were purchased and decent stallions continued to be used (Efisio, Kris, Thatching were extensively utilised) and the lesser winners continued to flow. In more recent years the stud has undergone something of a rennaisance, producing Flossy, Pablo, La Cucaracha, La Pomme d'Amour, Van Gosh and Tiddliwinks.
Flossy (by Efisio out of mare purchase Sirene Bleu Marine) was trained by Chris Thornton to win 9 races and over £108,000 including, in 1999, the valuable November Handicap - the most important Reed/Thornton victory for ten years. In 2000 she gained some valuable black type when second in the Virginia Rated H L. Her record improved the following year when she won the, somewhat clumsily named, Bet Direct On Channel 4 Rated Stakes Showcase Handicap L, the first Reed black-type winner since Apache, as well as finishing third in the Dahlia Stakes L. Appropriately the dam is from a family with strong links to the Wildenstein family, as it has also produced their tough horse Steinlen. Flossy was entered for the 2000 December Sales, but was bought back by Reed for 72,000gns.
The Ardneasken family largely continued via Apache's half sister Winnebago (1993 filly by Kris). The Barry Hills trained Pablo (Efisio - Winnebago), won a 2002 Goodwood maiden by nine lengths on only his third outing, and followed up by winning the £20,300 Pentax Digital Camera Handicap at Sandown on his next outing, towards the end of the season he also won the £17,400 Littlewoods Bet Direct Mile Handicap at Newmarket. This was just the start however as Pablo started the 2003 season in grand style by winning the £65,000 Lincoln Handicap. Pablo also made a good start to the 2004 season by winning a £10,000 Conditions race at Warwick in April, although he was subsequently sold to race in Ireland. Pablo's own brother San Antonio also had a good 2003, winning his first two races (a maiden and a £8,500 handicap at Pontefract) and finishing second in valuable handicaps at Newmarket and Goodwood (the £26,100 Freephone Stanley Handicap), sold by Reed he later won the Jubilee Handicap in 2005. This is certainly a valuable 'nick' as another own brother Alfonso won two races in 2004! Mated to former Copgrove boarder Peintre Celebre, Winnebago in 2004 produced the filly Van Gosh who, in a new policy, was sent to France to be trained by Andre Fabre for whom she won two races including the 2007 Prix de Thiberville L. Not surprisingly the mating was repeated and in 2008 Winnebago produced La Pomme d'Amour to Peintre Celebre and she won over £200,000 with five wins including the Prix de Pomone G2 and a second in the Prix de la Pepiniere L at Maisons-Laffitte, both in 2012. She started 2013 poorly but, just three days after the death of Mr.Reed, showed a return to form when finishing second in the Prix Maurice de Nieuil G2 at Longchamp, before winning the Prix de Pomone G2 for the second year in a row. The Ardneasken family continues to this day at Copgrove via La Pomme d'Amour (foals by Dawn Approach, Oasis Dream, Toronado ; one bumper winner to date) and Van Gosh, not to mention a couple of lesser lights.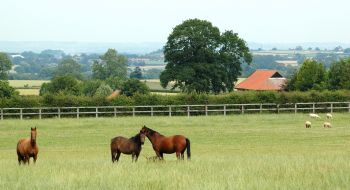 The best recent horse is undoubtably the Hills trained La Cucaracha who won her two races at two, and got off to a good start in 2004, being 2nd in the Lansdown Stakes L, and 3rd in the Leisure Stakes L. The start of 2005 was even better as she won the Cammidge Trophy L at Doncaster on Lincoln day and, after a disappointing run at York, became the first Reed Group winner since Dakota when taking the 2005 Ballyogan Stakes G3 at Leopardstown, she followed this up with a good second in the Summer Stakes G3 at York, and then a valuable win in the £32,500 Skybet Dash, also at York. Her best day however came back at York at the Ebor meeting where she won the Nunthorpe Stakes G1 by a head to provide her owner with his very first Group One winner after nearly 40 years in the breeding business, and at his favourite course to boot! She followed that performance up by finishing a good second in the William Hill Sprint Cup G1 at Haydock. Her 2006 season started badly, but she was back in form by Goodwood, winning the King George Stakes G3 at the end of the season she was sold at the December Sales for 525,000gns. La Cucaracha, who has shown a definite preference for good ground, is by Piccolo out of the Formidable mare Peggy Spencer who was bought from Theakston Stud for 11,000gns as a yearling and is from the family of Darine, she won three races for Reed and Thornton as a three-year-old. Peggy Spencer had previously produced winners Sammy Samba and Takes Two To Tango (a filly by Groom Dancer) for Reed with the later producing another good Reed homebred in the form of Can You Conga (2010 c by Piccolo) who in 2013, shortly after Reed's death, won the £31,125 32red Supports Racing Welfare Handicap at Newmarket. Peggy Spencer's 2009 filly by Piccolo, named La Napoule, was one of the operations first runners trained by Richard Hannon Jnr, finishing second on her debut in January 2014 and eventually gaining what used to be known as a winning 'bracket'. In 2016 Peggy Spencer's grandson (via Give Her A Whirl, 2004 by Pursuit of Love) Whirl Me Round (2014 by Piccolo) won a Hamilton maiden and was second (beaten a neck) in the £110,414 Totepool Two-Year-Old Trophy L at Redcar, picking up £37,625 for connections. The family continues at Copgrove through La Cucaracha's own sisters La Barata and La Napoule (dam of Peggy Sioux, placed third in the £51,540 Palace Of Holyroodhouse Handicap at Royal Ascot 2022) and half sisters Give Her A Whirl and Takes Two To Tango, who was repurchased by Mr Reed for 58,000 Euros in Nov 2007; reinvesting some of the La Cucaracha sale proceeds no doubt ! La Napoule's 2022 colt by Iffraaj sold as a foal, via Baroda Stud, for 55,000gns at the 2022 December Sales, the dam's first four foals all having won including the aforementioned Peggy Sioux and promising Roger Varian juvenille Tyndrum Gold (2020 c by Muhaarar sold via the National Stud for 32,000gns at the October Sales of 2021).
A previously unheralded purchase is the mare Card Games (1997 by First Trump - Pericardia). Purchased by Reed as a yearling for 4,200gns she was trained by Mick Easterby to win three moderate sprint races and put up her best performance when second in the £22,750 Williamhillcasino.com Showcase Handicap at York's 2000 Dante meeting and won over £30,000 before retiring to stud in 2003. She is dam of three time winner Mrs Bun (2005 mare by Efisio), four time winner Pelmanism (2007 gelding by Piccolo) and Tiddliwinks (2006 colt by Piccolo) who eight races, most notably the 2012 Duke Of York Stakes G2 and Greenlands Stakes G3 having finished third and second respectively in the same races the previous year, and fourth in the 2010 Portland Handicap. All these progeny were retained by Reed and trained by Kevin Ryan. Lavetta (2012 by Peintre Celebre), a four time winner, is the best of the young mares from this family at the stud.
The stud and estate is now owned by the Guy Reed Trust (run by his nephews as executors and, presumably, beneficiaries ) and Brian O'Rourke, former MD of the National Stud, has been recruited to run the stud and expand it's operations more into boarding whilst retaining a core of their own mares. Clients include well-known American owner/breeder George Strawbridge (who's Copgrove based mares include six time Group One winner Moonlight Cloud), David and Vimy Aykroyd (who live close by at Aldborough Grange) and the equally local Robert Cornelius (breeder of Nell Gwyn Stakes G3 winner Mammas Girl). Extensive new facilities have been added, and more arable land has been converted into paddocks. The development of Branton Court Stud, and the expansion of Copgrove, means the two now abutt each other. In a nice touch the horses in training are now owned by 'Guy Reed Racing' . In recent years the interesting policy of only covering the mares on alternate years seems to have been adopted, whether this continues under Mr O'Rourke's guidance remains to be seen. The sole trainer is now Kevin Ryan.
Yearling purchases for Mr.Reed include decent handicappers Call Me, Stand Tall and Give Me A Ring, he also owned Secret Service who was placed in the Cambridgeshire and November Handicaps, all these horses were trained by Chris Thornton. The lesser colts usually managed to win a bumper at four or five and were then usually sold on, with the money reinvested in the sales ring and stallion fees. One example of this policy was the decent Beachy Head (Damister - No More Rosies) who won a total of 12 races including the 1998 Mason Organisation Handicap Chase, a class B event at Ayr and was also third in the First National Bank Gold Cup Chase Limited Handicap. Another of No More Rosies offspring is Flownaway (1999 g by Polar Falcon) who was bred by Reed but sold for 5,500gns as a yearling. He has since won six races including the £15,953 Schroders Rated Stakes at Goodwood in 2003, and was placed third in the Windsor Forest Stakes L and, as a juvenille, third in the valuable Blaydon Nursery at Newcastle.
One of the last yearlings purchased by the late Guy Reed was the filly So Refined (2011 Cape Cross - Refined by Statoblest) at the December Yearling Sales in 2012 for 30,000gns. She is a half sister to decent sprinter Galeota (Mill Reef Stakes G2, Surrey Stakes L, 2nd.Golden Jubilee Stakes G1 etc) and stayer Loulwa (River Eden Fillies' Stakes L, dam of dual listed winner Justineo) , not to mention Super Sprint winner Lady Livius. Unraced, she has been retained by the Reed's and her first foal, Triple Distilled (2016 c by Tamayuz) was in training with Kevin Ryan and was then sold on to Nigel Tinkler's stable and has won three, whilst his half-brother Abstemious also finished up with Tinkler having started with Ryan, and has won one.
To see an aerial photo of Copgrove Stud click here. The picture shows the central part of the stud (the run-in sheds can be clearly seen). To see the location of the stud buildings use the 'down' arrow to the left of the page, to see Copgrove Hall use the 'up' arrow.
All information provided on this site is given on a 'best endeavours' basis. No guarantee as to the accuracy of the data is implied nor should it be assumed. For clarification please contact the relevant parties.
If you have any comments, corrections, suggestions, pictures or (most importantly) information please email me.
Copyright 2002 Stephen George-Powell
If you can't see a toolbar at the top of this page either you have an in-compatible browser of you have accessed
this site via an old link, please use www.yorkshire-racing.co.uk instead.